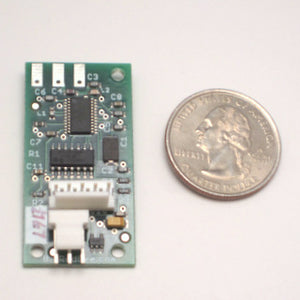 Operates on the 70cm amateur radio band. The 16mw BeeLine RF Transmitter has a maximum RF output power of +12dBm. No battery  or USB interface included.
A 100mw version (+20dBm) is available (add $26).   
Powered by an optional single cell lithium poly battery.
Whip antenna is standard, optional SMA antenna  available (Add $12: includes male SMA antenna and female SMA connector on board)
Package deal includes a single cell 210 mah LiPo battery, and USB interface/battery charger. (add  $26)
To purchase battery without USB, see the miscellaneous hardware section
IMPORTANT PROGRAMMING UTILITY INFORMATION:
The 16mw and 100mw version now use different programming utilities:
Amateur radio licensed required.